There is no doubt as to why kinky straight hair is growing in popularity as the popularity of natural hair does! For those seeking a more organic and textured look, kinky straight hair is great because it combines the best of both worlds. In addition to curling, kinky straight hair can be flat ironed, two strands twisted, or braided. For those who want more length, volume, and a natural look with structure, kinky straight hair is great. Scroll down to read more!
What is kinky straight hair?
Yaki hair, often known as "kinky hair," is a form of weave hair that has been tightly plaited, twisted onto small metal rods, and baked to produce a thicker "kinky" or "yaki" texture similar to that of regular afro relaxed hair. This is a very natural-looking option for afro women and can be found in a range of thicknesses depending on how the process has been carried out. Kinky hair is different from yaki hair in that it is plaited more loosely and larger rods are utilized, giving it the impression of unrelaxed natural afro hair. This is what is frequently referred as as "kinky" or "kinky straight," and it looks incredibly natural. People see kinky straight hair as thicker and having more hair. One of the most well-liked hair textures in the world today is kinky straight weave, sometimes referred to as a blow out straight weave.
Steam treatment on kinky straight hair doesn't make it lose its luster or smoothness. This hair is washable, straightenable, and can be curled. If you flat iron, curl, twist, and style your hair with the kinky straight extensions, it will look amazing. If you're seeking for virgin hair extensions to improve the length, volume, and lovely natural look of your own hair, our naturally kinky straight hair is the perfect option.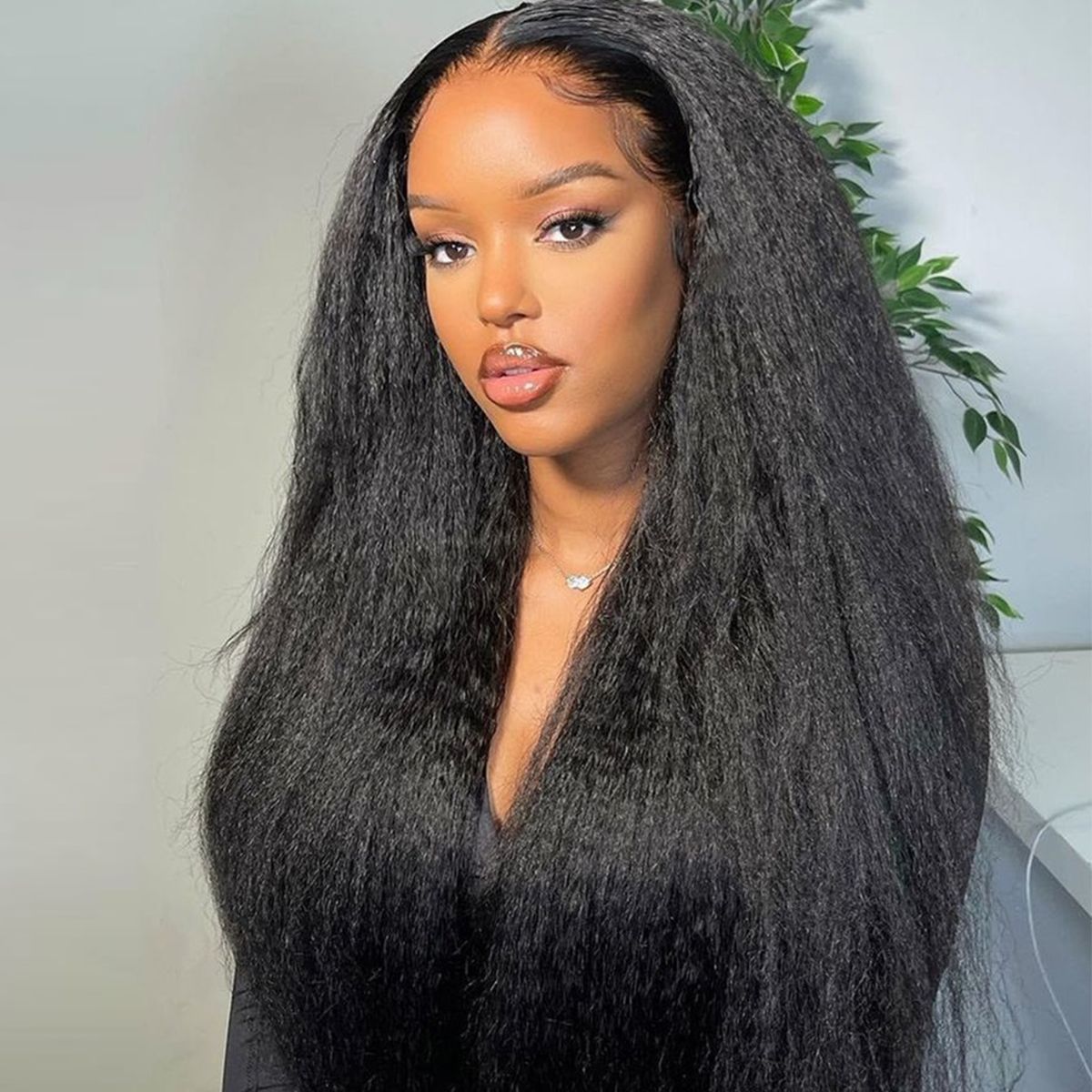 Top 10 gorgeous hairstyles with 20 inches hair
Why Should You Choose Kinky Straight Hair
The chance for more options and diversity is provided by picking kinky straight hair. It permits casual styles like ponytails and sloppy buns as well as elegant ones like undos and voluminous curls! Straight hair is the method to choose if you want light, voluminous hair that looks really kinky!
Having kinky human hair seems beautiful with it being the hottest vogue. But there are always advantages and disadvantages to even the best things.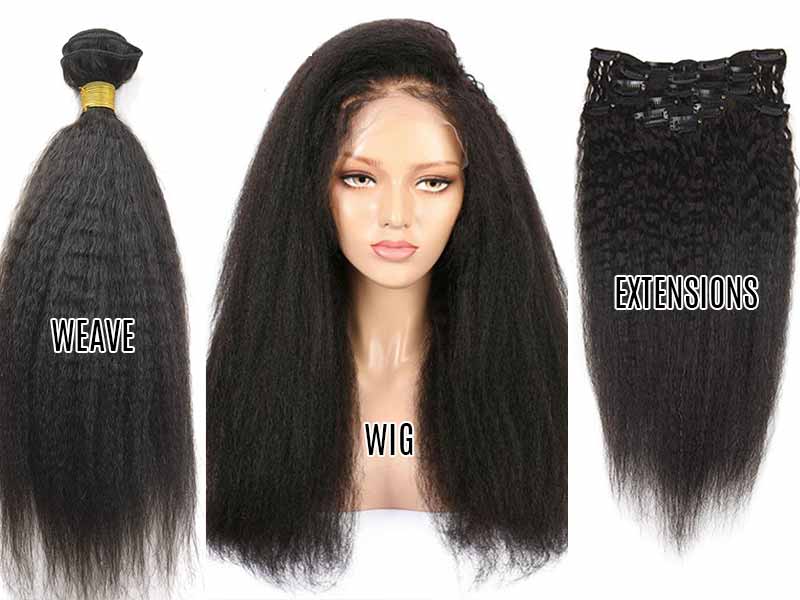 The Pros 
1. Give More Options
Persons with kinky straight hair have additional alternatives. Crowns, wash-and-go styles, twist-outs, and braid-outs When one has natural hair, the possibilities for hairstyles are endless. You can alter your haircut or color as you choose, and you can wear simple or elegant clothing on a daily basis.
2. Light And Comfortable
Because kinky straight hair is known for being delicate and feather-light, applying it to your hair won't make you feel strange or as though there is something foreign in your hair. Even if your texture is fine, the curls and kinks make it appear thicker than straight hair.
3. Natural Look
The Shape Of Kinky Straight Hair Is Fluffy, It Makes You More Casual, You Can Use It To Try More Styles. It Mimics The Hair Of African Americans, So It Looks Like Its Own Hair.
The Cons
1. It's Dry
Due to the curls and coils and the need for natural oils to flow down the hair strand, you must significantly increase the moisture.
2. Tangles
This cannot be avoided. You could require extra time to maintain long, kinky straight hair extensions.
Types Of Kinky Hair Weave
There have always been four main suppliers for human hair: Indian, Brazilian, Malaysian, and Peruvian. It's largely up to your preference which hair you utilize. For ladies of color, MCSara delivers the greatest human hair weave at reasonable pricing.
Brazilian Kinky Hair Weave Texture: Brazilian hair weave is amongst the most common and widely used hair. Brazilian hair does not receive any hair treatment and the cuticles are all intact flowing in the same direction. Brazilian hair is delicate, soft to the touch, and durable allowing it to offer a long lifespan.
Malaysian Kinky Hair Weave Texture: Malaysian hair is known for its silky hair texture and medium luster, allowing it to look extremely natural. Malaysian hair equates light, elastic, and soft to the touch.
Indian Kinky Hair Weave Texture: Indian hair is a perfect match for black women's hair texture! This texture is low maintenance and allows free flow.
Peruvian Kinky Hair Weave Texture: Peruvian hair is extremely durable and used widely. This hair texture is curled and reshaped for the perfect results and can constantly be styled in various ways.
How To Maintain Your Kinky Straight Hair Weave
1. Detangling
To ensure longevity, detangle and remove snags from your hair. Gently comb out any snags using your fingers first. After that, make sure to remove any last tangles and snags with a wide-tooth comb. Try applying a solution composed of equal parts water and conditioner to the trouble spot if the tangles are persistent. Make sure to pat dry your extensions with a t-shirt before letting your hair air dry.
2. Maintaining Moisture
For your hair to last as long as possible, it is crucial to keep it hydrated. Compared to other hair textures, this one is dry. Therefore, generating and retaining moisture in strands is crucial.
3. Choose The Correct Shampoo
Use a gentle shampoo with little to no lather, if any. Try to locate a sulfate- and paraben-free shampoo. It is not necessary to frequently wash kinky straight hair, but deep conditioners should be used in between washes to keep your hair moisturized.
4. Use the Correct Hair Correct Products
Use products that won't weigh down your hair too much and are light in weight. Look for hair care items made especially for hair weaves.