20 inches hair is gorgeous and popular, but it also can be challenging to come up with professional hairstyles for long hair since you have so much of it. Although it looks lovely, depending on your work, you should save wearing your hair loose and flowing for relaxed situations, date evenings, and off days. You want your hair in a tidy but fashionable "do" to look polished, poised, and fashionable. It makes sense if you're struggling for inspiration. Read on for 10 suggestions for hairstyles with 20 inches hair and ideas for what to do with your long locks.
How long is 20 inches hair?
20 inches hair is considered common hair length which reach below your middle back. It's approximately 50-52cm. Everyone can benefit from 20 inches because it is easy to style and will appear more beautiful. The hair is the most desirable length when it reaches your waist since it is thick enough and long enough for the hairdresser to be able to add softness and shine.
10 gorgeous hairstyles with 20 inches hair
1. Hig

h-Fashion Ponytail

The ponytail is a multi-talented hairstyle. It can be modest and straightforward; a practical design created to keep your hair pulled back and out of your face. But depending on how many bows and sparkling accessories you have on hand, it may also be preppy, sophisticated, or even extravagant.

Watch the tutorial from Kayley Melissa for more detail
2. Wavy hairstyle
Long wavy hair is absolutely attractive. These soft tendrils of hair are very complimentary to every face shape so there is sure to be a style you can pull off and make your own!
3.
High Bun
Anyone with long hair can rock this fun style, and it's quite simple to achieve. Only use second-day hair for this hairstyle if you want it to look good. It will be too slippery to handle if you try to do it right after blow-drying it.
4.
Half-Up
One of the most adaptable and stylish hairstyles is the half up, half down. The style combines two others by leaving the hair loose and pulling it up and back from the face at the top of the head. This is really attractive and a wonderful method to emphasize your features and draw attention to your face. Whether you want to wear this hairstyle to work or a special event like a wedding or prom, it is ideal for all settings. Additionally, it has a younger vibe than many updos and can be easily customized and fashioned in a variety of ways based on your preferences and styling prowess, from intricate braided looks to straightforward buns or twists.
5.
Bubble Ponytail
Bubble ponytails are a throwback to the 90s. The bubble ponytail is stunning to look at, it also happens to be super easy to recreate. The best part about bubble ponytails is that you do not have to be limited by your hair length to try them. If you can create at least three bubbles with 20 inches hair, you are good to go. For shorter hair lengths, a tight and sleek high bubble ponytail like this will look ridiculously hot!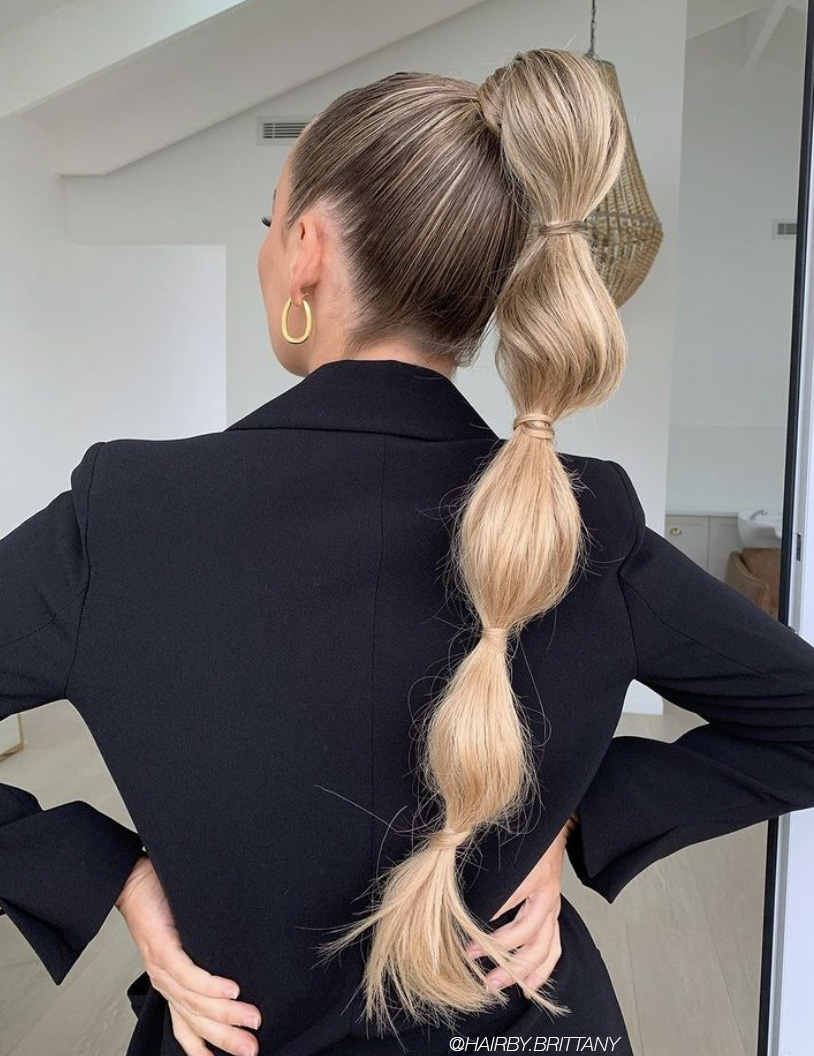 I-Tip extensions: something you shouldn't miss
6.Waterfall Braid Hairdo
This little waterfall braid crosses the top of the head from one side to the other (hence the name). Similar to a French braid, you grab a very small piece to add every time you cross another piece over. Get the full tutorial at Instructables.
7.Rolled Chignon Hairdo
A very gorgeous hairdo with a spiraling appearance is shown here. In actuality, you create a rolled chignon by first pinning two twists halfway up, and then rolling the remaining portion of your hair up. n Check out the full photo tutorial Birchbox over at find out more.
8. Crown braid
This gorgeous design has an antique feel to it because it resembles rope somewhat. Twist two pieces of hair together in order to achieve this appearance. Make your way over to the tutorial blog to find out how to recreate this look on your own hair.
9. Faux Twist Fishtail
In this case, the braid is in the shape of a fishtail but is actually more twisted. Pull a tiny twist of hair from each side, then fasten it with a tiny hair tie. then continue doing this repeatedly. Watch the tutorial from Luxy Hair to know details.
10.Bun with curtain bangs
A style of bang that frames the face on both sides is called a curtain bang. These bangs start out with an interior trim and gradually lengthen outside. If done properly, curtain bangs are a great way to show off gorgeous cheekbones, flawlessly conceal large foreheads, and always bring out your best features. This hairstyle is suitable for both work and play because it looks modern and effortless.